Journal Entry:
Sun Apr 3, 2011, 8:38 PM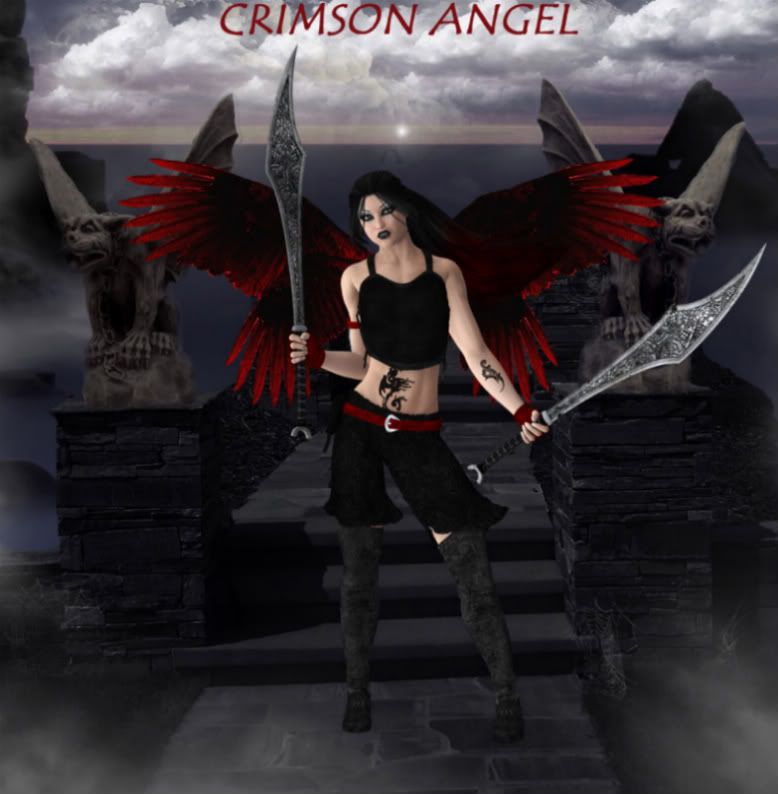 Crimson Angel
Hello everyone, I know it has been a couple of weeks since I have put up a journal, and I do apologize for that, but it has been either work or my health holding me back. Yet here I am at 10:40 pm wide awake writing a journal, go figure huh..lol.
Nothing much new really going on. How about with you guys? I would love to know what has been going on with my family and friends here on DA. So let me know how life has been treating you, yes I mean the good and the bad.

.
Our Darling Isabella is still as cute as ever. I saw her several times this week. I just love holding her, and the feel of a newborn in my arms again. I have to say I do miss it very much. All my babies are grown and are finally out of the house (yes I am doing a small happy dance in my chair because part of me misses them very much). Yet they are now leading there own lives and are happy, so I guess that is what is important.
This will actually give me a chance to do more writing, and trying different things. I am kind of caught on looking at a picture, capturing the feeling of it and if it hits me in the right way, expressing those feelings in words, you can say it is kind of like a muse for me. I am still working on my writing therapy as well, as you can tell with my most recent piece "Risen From The Ashes", there is still more to come, for there is more to tell. (sigh). I kind of warned you all it would be a long process and to bear with me, and hopefully you can.
I also have a few ideas for some new manips that I want to start working on as well. So yeah I will be busy, but when am I not

. You guys know me....LOL.
Nobody Knows
This song holds a special meaning to me, and a lot of truth, for it is me and how I am, and what I do, but Nobody Knows, until now..., it's a song by Pink, who is a great singer. She makes some fantastic songs with some very deep lyrics, that have truth and real meaning to them. Here is one of them...

Nobody knows, nobody knows but me that I sometimes cry.
If I could pretend that I'm asleep when my tears start to fall,
I peek out from behind these walls. I think nobody knows,
Nobody knows.
Nobody likes, nobody likes to lose their inner voice.
The one I used to hear before my life, made a choice.
But I think nobody knows, nobody knows.
Baby, Oh the secret's safe with me.
There's nowhere else in the world that I could ever be.
And baby, don't it feel like I'm all alone.
Who's gonna be there after the last angel has flown?
And I've lost my way back home?
I think nobody knows, I said nobody knows.
Nobody cares, It's win or lose, not how you play the game.
And the road to darkness has a way of always knowing my name,
But I think nobody knows, nobody knows.
Baby, Oh the secret's safe with me.
There's nowhere else in the world that I could ever be.
And baby don't it feel like I'm all alone.
Who's gonna be there after the last angel has flown?
And I've lost my way back home? Nobody knows.
Tomorrow I'll be there my friend, I'll wake up and start all over again.
When everybody else is gone.
Nobody knows, nobody knows the rhythm of my heart,
The way I do when I'm lying in the dark, and the world is asleep,
I think nobody knows, nobody knows, nobody knows but me.
Me.

~Pink~
I would like to thank

for having this in his journal. He is a huge Pink fan, and I had suggested this song, and he put it up in his journal. Thank you my dear friend, for now I shall carry it in mine.

Yes I have left this song in my journal again, for I listen to it everyday, and it holds a very special meaning to me....and those who truly know me, will understand why.

My two special features this week are two people I have known since I have been here on DA. They have always been very supportive of me in everything that I do, whether it is my poetry or my attempts at photo manipulation. They have been there with me through the good and the bad; when I have been happy or sad. Through all my changes. Well my dear friends this is a gift from me to you.

:icom2sad-eyes: has many pieces of work that I have fallen in love with and can come up with a poem in an instant, and have on many occasions. Her work speaks to me on such an emotional level, and each piece she creates I feel inside my heart.
:thumb139309480: :thumb175130534: :thumb188920755: :thumb193086723: :thumb196029138:

has touched the darker side of me. He is so very talented, and you can't help but feel the emotions emitting from his pictures. It is of a more darker nature, and that is what I love about it!!!! I feel is work, it brings out another side of me that I didn't even realize was there, and it has also helped to broaden my taste and view on art itself. Not to mention he is a wonderful friend.
Awakening Contest @ Lilith's Realm

is having a new contest called "Awakening Contest".
Transformation from human to Vampyre is usually a painful one, as is any transformation.
In our previous contest we have depicted the Transformation but this time, something new.
This is a Visual Art Contest and the same genre of the group will apply.
This contest will be for the best depiction of a newly created vampyre.
It may be beautiful, horrific, emotional, lustful or anything, but it must be powerful!
** Please before submitting your work,read the rules! **
***We have received a few questions about if we will accept fallen angles or any other female -dark creature,but NO,the contest states -specify- Vampires...so please,just follow the rules!...if you already submitted a work and it is not about vampires,ok,it will participate,but we won't accept any other creature,except Vampires!
***An Important note: Vampires are strong enough as for using weapons...this means a vampire does not need swords nor guns for killing!
NO weapons are allowed into the work***
We launched a news article featuring art in which a new vampire is bornt: Awakening Contest at Lilith's Realm ...
For more information about the contest here is the link
liliths-realm.deviantart.com/b…
I encourage those who are members to go and check it out and good luck!!!
Stock Provided By:
AshenSorrow
fav.me/d37dnpz
kkako
fav.me/d2mio3a
fav.me/d1a4h8m
angellella-stock
fav.me/d2xpte4
Listening to: Nothing
Reading: Nothing
Watching: Wonderful Art here on DA
Playing: Nothing
Eating: Eating is so over rated
Drinking: Tea

Watch